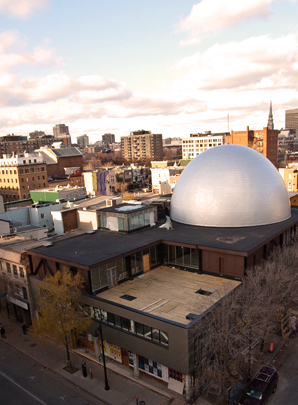 The Satosphere is a 18 meters diameter dome on the roof of the Society for Arts and Technology [SAT] in Montreal. It opened in 2011, and has a 360° x 210° spherical screen, equipped with 8 video projectors, 157 speakers, and has a team of designers and technicians working in the space, doing content creation as well as active R&D on immersive technologies and contents.
I was invited as part of the artist residency program to develop an audiovisual piece that premièred in May 2014.
I spent about a month in the dome, doing extensive tests and research, as well as rehearsals and a lot of fine tuning, and I'd like to share some of my findings, which could be useful if you're working in a similar environment.
Working with such format implies new rules, here are a few things I discovered during the residency.