INTRO
While we're well aware of the small actions we can take as individuals to reduce our carbon footprint, we have limited access to informations about the larger causes of CO2 emissions.

100 Companies are responsible for 71% of the global greenhouse gas emissions.

The coal industry is still growing in Europe, and the largest coal mine and dirtiest coal plants are just a couple of hours from Brussels, Amsterdam and Frankfurt.

I'm a citizen of Europe, and I only recently discovered the scope of the coal problem: the unimaginable amounts of CO2 emissions, the death toll and health issues connected to the fine particles (22 900 premature deaths a year in EU), the social and economic impact of the mines and coal plants.

What stroke me the most is the lack of awareness.
I decided to dedicate at least 1 day per week to learn and share images, figures and data about the coal related activities, and to start action to reduce the CO2 emissions from the coal industry.

I now travel to the coal mines and coal plants to witness the problem with my own eyes, and I would like to share this experience through visuals and data, thought emotion and scientific evidence.
Here are 2 twitter threads with a condensed version of my research and images:
1- Bełchatów
2- Hambach forest
Proposal 1- Dataviz: real-time emissions


AN ARTIST PERSPECTIVE
As an artist, I would like to use my skills (aerial photography, creative coding, dataviz, 3d modeling and fluid simulations, large scale projections..) and sensibility to present a data visualisation project more connected to the feelings and emotions I am experiencing.

A lot of studies and data exists, but are often presented in dry reports, with long lists of numbers and statistics disconnected from our daily experience and from the challenges we're facing.

I want to present my own experience, images, videos, alongside scientific data, to help raising awareness around the fossil fuels and coal issues.

I think this will help communicate better about the social issues, health issues, global warming issues I witnessed.

I want to suggest possible actions and short term solutions to address these challenges.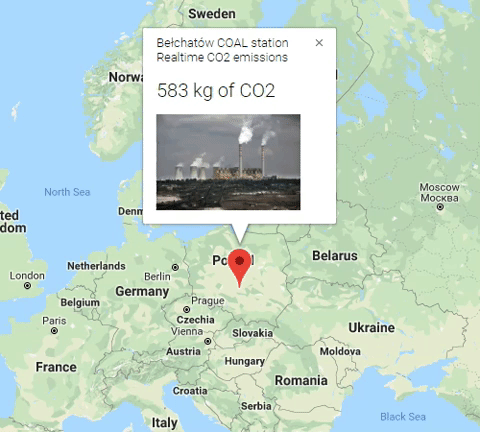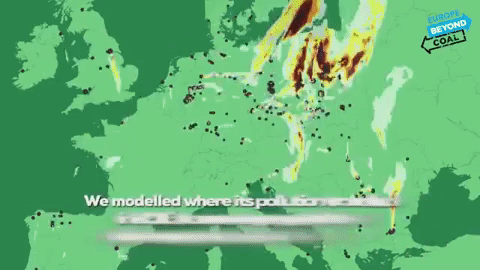 DATA AND INFORMATIONS:
Real-time CO2 emissions of the major emitters in Europe: (> 1 Million Tons per year)
Fine particles air flow and areas subject to pollution and health issues.
Other emissions: Mercury, Sulfur dioxide (SO2), Nitrogen oxides (NOx), lead, cadmium, carbon monoxide, Arsenic.
Photos and videos of the locations (maybe artworks).
Suggestions of ACTIONS and Things to do to help reducing emissions at each location.

SOURCING THE DATA:
I'm already having conversations with several ONGs (Beyond coal, Endcoal, Ende Gelände and Sunrise project) and we are sharing and exchanging data, reports and useful information.
I'm also active locally with NGO Bruxsel'air, and I installed a fine particles detector in my studio in Brussels, to gather local data with hundreds of other members and create a local, real-time map of the particles in different parts of the city.


SKETCH USING GOOGLE MAPS
Here's an early sketch showing the idea: https://codepen.io/crustea/pen/omePbG


CO2 EMISSIONS
Bełchatów: 67 Tons/minute
Niederaußem 53.4 Tons/minute
Janchwalde 44.7 Tons/minute
etc…


PHOTOGRAPHY and VIDEOS
Selection of drone photography I made in March 2019 in Rhineland, only 3h30 train ride North West of Paris:
ACTIONS:
Most institutions are only considering short term goals (targets in 2038 and 2050, 19 years and 31 years from now, when some effects might already be irreversible.
I'm trying to identify groups and possible actions to help bring hope, move things faster and create positive actions: Greta Thunberg, FridaysforFuture, #ParentsForFuture, Extinction Rebellion, etc…

While these might be only symbolic and have limited effect, I think there could be inspiring conversations and ideas for a better future.

A visualisation of past, present and calendar of future events will be available on the map to help connect the issues with possible solutions and bring people to action.

Exemple 1: Ende Geleande actions to stop excavators in Germany.


Exemple 2: Independant activists moved into tree houses in 2012 to protect the forest of Hambach from being cut to expand the coal mine.

Exemple 3: Creative projections in public space in Brussels, February 2019
PRESENTATION OF THE WORK
1- ONLINE – website and interactive map
2- IRL: interactive installation, details tbd.


---
Proposal 2- A film on « The Technological Sublime ».

(Coal mines and coal plants in Europe).
In March 2019, I drove from Brussels to Rhineland to witness the coal plants and the largest open pit coal mine of Europe. I used a camera and a drone to document my journey, and spent a night on the edge of the mine, in the Hambach forest.
The images I produced had a great echo online, and this short trip motivated me to work on a larger larger film project, I'm planning to go back to the same location in June, as well as a tour of other mines and power plants to produce a 30 minutes long, high resolution (4k), contemplative video.

The scale of these places is very hard to understand and represent, so I want to use 4k footage to capture and share the immensity of these landscapes.

The film will explore the « Technological sublime« , as described by Phylosopher Jos De Mul in 2011.
Here's a short teaser with the first images shot in March 2019.

PRESENTATION OF THE WORK:

1- ONLINE FILM
2- INSTALLATION / PROJECTION OF THE FILM
in festivals and media art events.