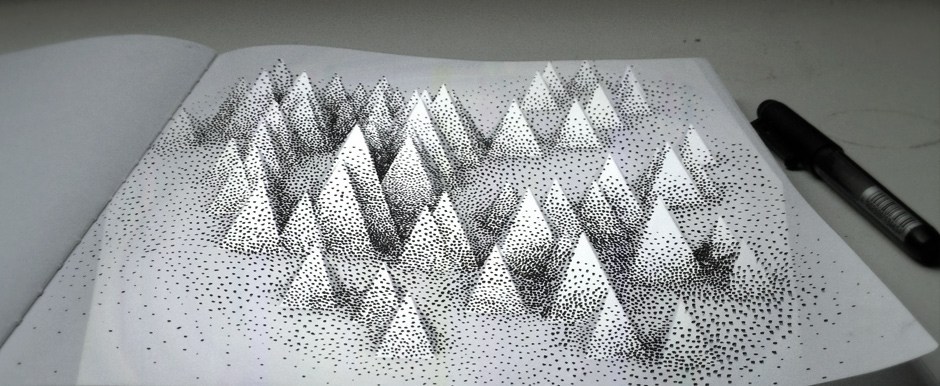 2015 projects
in blog
posted

juillet 31, 2015
I'm obsessed with light.
Technology allows us to manipulate light in such way that we can send a pixel hundred of meters away and have precise control over its properties, brightness and colour, at very high frequencies. Low cost projectors give us millions of these pixels to play with, a great opportunity for creatives and artists to use light to modify the space around us.
New frameworks and open code will redefine boundaries, Elliot Woods' hacks will double up projectors brightness and reach high framerates, super-bright LEDs will push limits even further, and bring us new perspectives on what can be achieved.
Technology keeps shaping the new art forms as much as it's shaping our everyday lives.
Within that exciting context, I'm planning the coming year with a variety of projects, mostly focusing on challenging our visual perception and creating experiences that question the very nature of reality.

Here are the main projects and formats I will be developing this year.
NIMBES
Immersive audiovisual installation, 15 min
by Joanie Lemercier
and James Ginzburg
_____
Watch the universe unfold, as it comes into being.
Formats available:
– dome
– projection on screen
– oculus rift
TESSELATE
projection on drawing,
5 min loop
_____
Tesselate combines drawing, anamorphosis and projection mapping, in a series of in-situ pieces.
Geometric shapes
emerge from the walls like crystals, and spread across the architecture,
turning the city into polygonal structures.
contact us for more information.
FUJI (不死)
audiovisual installation, 16 min
by Joanie Lemercier
and Paul Jebanasam
_____
A large scale hand drawn landscape depicting the Fujiyama is augmented by a layer of projected light.
The abstract narratives are inspired by the legend of Kaguya Hime, giving an imaginary and poetic vision of the story in an immersive environment.
PAPER & LIGHT
Projection on sculpture
in-situ pieces

On going series of works based on projections onto origamis started in 2007, exploring patterns made of folded paper, augmented by a layer of projected light.
I'm now focusing on large, permanent installations.
QUARTZ
Projection on sculpture
designed by:
Joanie Lemercier
and Kyle McDonald
_____
a large parametric crystalline structure animated by projection of generative patterns.
Originally commissioned by Barneys NYC, as part of a collaboration with Jay Z.
The piece is available for purchase, get in touch for more information.
BLUEPRINT
ARCHITECTURAL PROJECTION
& INSTALLATION
_____
Hear and visualize the geometry of architecture.
Upcoming audiovisual project, based around perception of space and ways to represent architecture.
Will premiere at STRP festival, March 2015.
PERMANENT ARCHITECTURAL PROJECTIONS
_____
Over the years, I had a chance to explore this format for events, and one-off projections.
I am now focusing on permanent installations, and I want to start discussions with architects, to consider projection mapping beyond temporary, flashy shows.
EXHIBITIONS AND CURATING
In the past three years, I explored the bridges between large scale works made through a digital process, and did some research on how it could translate to art galleries and collectors homes.
The outcome are the 'Light canvas' series, and 'Bright matter', a group show I curated in NYC and Art Basel Miami.
DREAM PROJECTS

Micro video-proposals combining architecture, light and music Rather than waiting for projects proposals to land in my inbox, I am now actively working on the projects I really want to make happen. These short videos are proposals, featuring places and artists I'd love to work with.
Note: These projects are fictional, and are just simulations.

with Nils Frahm, at Château de Versailles
with Woodkid, at Grand Palais.
with Portishead in sacred architecture.
with emptyset in decaying architecture.