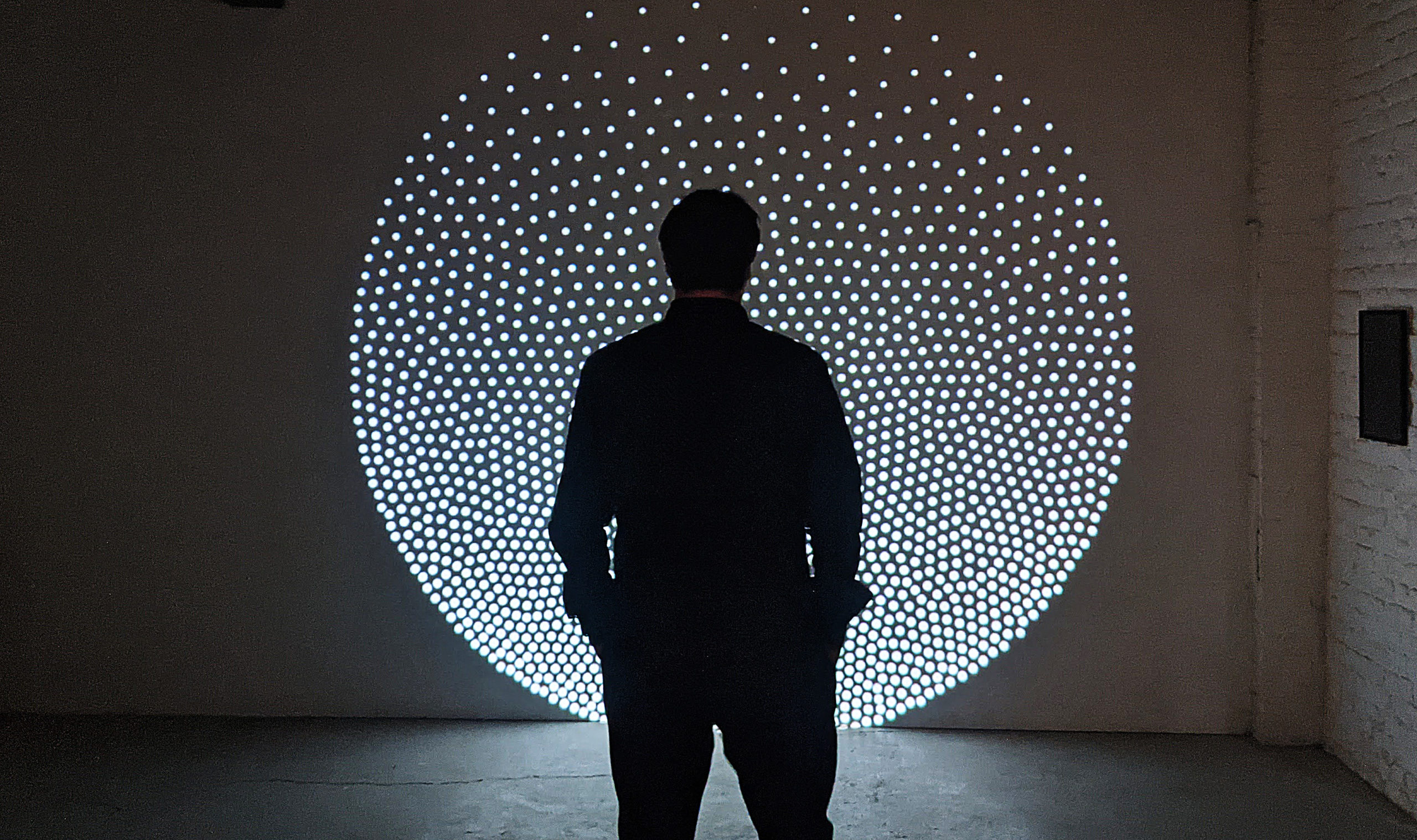 The problem of (Ethereum) CryptoArt
I spent the past 15 years flying to festivals, galleries, events, art fairs to exhibit and distribute my work while building my art practice. Most of these projects are unsustainable, so when I decided to lower my impact and cut plane travel, I started looking at alternatives.

The CryptoArt market is a new way for artists to distribute digital works to collectors: often digital images and video files. The blockchain technology provides secure ownership, traceability, artist commission on second market sales and a thriving market place, with platforms emerging quickly: Nifty Gateway, SuperRare, MakersPlace.. It's a vibrant and welcoming community, a place to discuss the works with collectors, and it brings a lot of benefits that the Art market fails to provide.
With no travel involved, and a mostly digital distribution, this new model looks like it has the potential to become a sustainable practice for artists. That's until you understand the magnitude of the environmental impacts of the current blockchain: It is a DISASTER.

Edit May 2020:
While the Ethereum platforms such as NiftyGateway, SuperRare, Makersplace, KnowOrigin, Rarible and Foundation have failed to address the issue, and still offer no alternative to Proof-Of-Work, there are already 30+ CleanNFTs platforms, low-energy consumption and ethical alternatives to Ethereum.

The leading platform HicEtNunc has just past 100,000 NFTs in less than 3 months of existence and has now more daily users than OpenSea.
---
THE IMPACT OF ENERGY CONSUMPTION
So you may wonder: Why is energy consumption so important?
Understanding and reducing our consumption(s) is the defining challenge of our time, and the tomorrow's "habitability" of the planet depends on our actions today.

Today, the Crypto infrastructure relies mostly on fossil fuels (64% of the world's electricity: coal 38%, oil and gas 26%). The CO2 emissions, combined with a steady growth of consumption is pushing us towards a climate apocalypse.
The energy production infrastructure is out of our sight, and we often have the feeling that electricity is abundant, limitless and we disregard its impact. This concept is best described by Rob Nixon as "Slow Violence".
Most of us pay the bills and don't worry about it, but to grasp the magnitude of the impact, you have to see it. The largest coal mine of Europe being just 1h30 from my studio, I'm now going there on a regular basis to document and understand the scope of our growing energy consumption.
---
In a nutshell: In order to produce electricity, we extract coal, forests are razed, people expropriated, villages and churches destroyed, the air polluted, and the entire region is being turned into a wasteland. 270 000 Tons of CO2 are emitted at Hambach, each day.
We, as technologists, softwares developpers, and energy consummers, are at the core of extractivism (ie: this mine runs on Autodesk softwares).
After witnessing so much destruction and despair, I decided to support activist groups opposing coal mining, and also to act on a personal level, auditing my own consumption, in order to reduce it. Here's the data:
---
---
With consistent efforts, alongside a hard decision to also cut plane travel, I am now reducing my consumption by at least 10% every year.
From 4.618 kWh (2018) to below 3.800 kWh (my 2020 target), I was on a good track to reach my objective of responsible degrowth.

This was before I released CryptoArt.
---
THE LACK OF TRANSPARENCY ON CRYPTOART PLATFORMS
I knew that CryptoArt requires significant energy consumption, so I decided to limit my first proper release to 6 pieces: a series around the platonic solids. (See Twitter thread). The work was available as a editions (53 in total).

After a lot of work, discussions and preparation, it was released on Nifty Gateway. It sold out in about 10 seconds. I'm really thankful to the team for their support and advice, and especially to Duncan who helped me craft this release and was one of the first to collect my work.

In order to assess the impact of the sale, I then asked the platform some details about the CO2 emissions and energy consumption.
Despite several requests, they did not provide any information.
---
---
THE ACTUAL IMPACT OF MY DROP ON NIFTY GATEWAY

Understanding that the information was not available, I reached out to Offsetra, a carbon offset company familiar with the impact of blockchain technologies. We went through the details of transactions. It turns out that the 53 edition emitted about 80kg of CO2 each, and worst, every resale by collectors continues today to increase that impact. [Note: Offsetra calculates carbon footprint for ETH wallets, not smart-contracts or individual tokens]
Their tool is available on https://carbon.fyi/

Then my friend Memo Akten (artist, engineer and PhD) started a remarkable investigation, over weeks of research he created a set of tools to assess your crypto wallet (available on http://cryptoart.wtf ). He also wrote an in-depth article about The Unreasonable Ecological Cost of #CryptoArt.

To this date, there is no information available on any of the platforms to inform the users about the insane waste linked to those transactions.
This lack of transparency basically ruined two years of efforts.

After Memo's article, Nifty Gateway finally responded to confirm the magnitude of the damage. The individual bids have no impact, as the transactions are already off-chain (which is better than most platforms !), but no mention of the terrible impact of large open editions, which create the most damage. They are working on a solution that could reduce impact by 99%, using NFT Scaling, now delayed until April 2021. But there is still no information, no warning to inform the artists. Transparency wasn't, and still isn't, a priority.

We should not have to investigate, or rely on external parties to get critical information about the impact of releasing CryptoArt and NFTs.
---
---
---
HOW TO REDUCE EMISSIONS, NOW:
In a distant future, Ethereum will be updated to ETH2 based on the PoS (Proof-of-stake) consensus. This will reduce drastically the energy consumption of the network, but it has been "coming soon" for the past 6 years.

<< We're waiting for ETH2 >> is the lazy response of most ETH platforms, to avoid addressing the issue today, but here's what the platforms can do, now:

1 – Transparency and 'Best practices':
Provide clear information on the impact, and how to minimize it. ie: limit the amount of transactions, avoid large editions.

2- "Ethereum Scaling"
We can reduce the impact, today, by 99% (according to Nifty Gateway) by implementing Layer2 scaling. A system like Harmony can be deployed on any of the existing platforms, is compatible with ETH wallets and requires minimal backend work while allowing a reduction of the energy consumption required per transaction. Matic/Polygon seems to offer a similar alternative for existing platforms.
Harmony, Avalanche, Cardano are all PoS (impact reduction of 99%), and have Art platforms in the making, and should be ready within the coming 2-3 months. Here's an extensive guide to Eco-NFT, by Memo Akten.


3 – Minimize on-chain transaction:
Keep all unnecessary transactions off-chain. Ie: Bids should become transactions only when a sale is confirmed, to avoid Tons of CO2 emissions per NFT.

In my opinion, platforms that are serious about their impact should put on hold their upcoming releases, and urgently implement NFT scaling before any further release.
It's also important to provide the artists detailed information about their impact and how to minimize it.

I personally invited and introduced artists and friends to the CryptoArt space, without understanding the insane energy waste, and I share part of the responsibility of their impact. I am now urging them to put their sales on hold until these problems are addressed and implemented by the platforms.

I am in contact with the teams at Nifty Gateway, Super Rare, Foundation, Known Origin and MakersPlace, and I will liaise with them to follow up, and share on this page any significant progress they make.
Update, March 10th 2020: The platforms still haven't responded with a clear plan to reduce their footprint significantly. The best option to reduce NFT's footprint is to drive artists and collectors away from these platform, to more ethical ones like hicetnunc (already PoS).

15 eco-friendly platforms are already available today, and are confirmed to be a viable alternative for artists. More will be announced soo.

Update, July 2020: The largest NFT platform @opensea now offers MATIC payments, a PoS alternative to Ethereum. While it doesn't solve the problem of ETH, a Proof-of Stake / Layer 2 solution can reduce the impact of each transaction by a factor of 1,000+. Also: no gas fees.

50 eco-friendly platforms are now available. http://cleannfts.org/

Here are some articles covering this story:
Wired: NFTs Are Hot. So Is Their Effect on the Earth's Climate
Art Forum: Chain Reaction
Hyperallergic: As NFT Sells for $69M, Artists Question Environmental Impact of Blockchain
ABC news: NFTs are setting the creative world alight. Are they also bad for the planet?
L.A. Times: $69 million for digital art? The NFT craze, explained
The Independant: The new 'bitcoin for Art' trend explained
Engadgets: NFTs are both priceless and worthless
Gizmodo: How to Fix Crypto Art NFTs' Carbon Pollution Problem
Cultbyte: It's Time to Rethink. The Carbon Cost of the NFT Boom
Business of Business: The blockchain "scaling" civil war is underway—and the battleground is carbon
---
A SYSTEMIC PROBLEM
Of course this particular issue of consumption, revealed here by the magnitude of the damage, isn't tied to CryptoArt. It is embedded in our society: I participated in one night projection mapping events, music festivals and Art fairs that thousands of visitors fly to, exhibitions running with tens of projectors and servers, from GPU render farms to gadgets we order on amazon, all these have terrible impact too.
And in many cases, a responsible and informed use of NFT may even have a lower impact than our current lifestyles. Personally, I will invest all my previous CryptoArt profits into a drastic reduction of my heating (currently fossil gas) by insulating the building, investing into a heat pump, switching to renewables. This should help me cut my overall consumption(s) by 60%.
In that regard, I don't think the issue is CryptoArt itself, the real problem is when downplay, avoid or delay the urgent reductions that are required now.
---
THE CONFUSION ABOUT CARBON "OFFSET".
Offset is often suggested as a potential way to cancel or reduce our CO2 impact. It is a dangerous misconception:

While these projects and investments are great, it will have no impact on your own CO2 emissions. None.

In fact these are often used as an excuse, to avoid reducing your emissions in the first place and to delay further the hard decisions we have to make.

What about carbon capture ?
The technology just does not exist at scale, we can not make plans or rely on a technology that may just never be deployed.

What about planting trees ?
We worked on a project with Juliette Bibasse to study that idea: << How many trees to make a Forest >>

---
Here are the many reasons why this will never cancel your CO2 emissions:
IRREVERSIBILITY:
Fossil fuel CO2 emissions (63 % of crypto) are irreversible: while coal, oil and gas formed over 6 to 10 Millions years, it was stored permanently underground, trees can only hold CO2 temporarily, over their lifetime (and sometimes a little beyond, until decomposed or burned).

TIMESCALE:
A tree planted can only capture about 60 kg of CO2 over the first 10 years. Those trees are likely to be sold and cut before they capture any significant amount of CO2. To get an idea of the problem, 55 600 trees are cut every minute, a profitable business with more influence and power than NGOs.
---
Tools like "green certificates", "carbon credits", (alongside offsets, carbon capture and tree planting) are actually used by the fossil fuel industry to justify the expansion of their business, and their main excuse to avoid any reductions.
While many offset companies are scam, I like the approach of Offsetra on this: first reduce all your impacts, only then offset will start making sense.
Edit: Offsetra has just done a fundraiser using Ethereum and emitted large amounts of CO2 in the process. Using PoW (while they could be doing it on PoS instead, and reduce emissions by 99%) is not only stupid from a CO2 emission standpoint, but it also destroys the viability of the concept of Offsetting.


So there is no way around this topic, let's not find excuses or try to buy off our guilt, but let's focus on reducing our impacts, now.
It was a difficult decision to cancel my release after all the work done, and I had to investigate and have numerous zooms and calls to write this heavy post instead, but it feels like the only reasonable option. I am available to help the platforms who are willing to accelerate the transition, and I will be vocal about any efforts in that direction.
---
CLIMATE ACTION
As tree planting and individual actions won't be sufficient, I suggest supporting activists opposing the fossil fuel industry on the ground. Groups like Extinction Rebellion, Ende Gelaende, Fridays for Future, are using civil disobedience and do non-violent, direct actions to block the coal, oil and gas infrastructure. Follow my "climate action" newsletter to find out more creative ideas to accelerate the system change we need.
---
---
POINT LIGHT
Let me finish this long post with a glimpse of the works I was supposed to release today. I won't go into details yet, but the Point light series are projections of light in space, and it will be deployed as a set of instructions, to setup the installation.

I am putting this series, and all new NFT releases on hold for the moment, until a responsible and ethical platform emerges.
---
Thanks to Memo Akten for raising the alarm, to Offsetra for the insights, and to all the artists, collectors, friends and people on Discord channel: Eco-NFTs for the support, discussions, advice and proofreading.
---