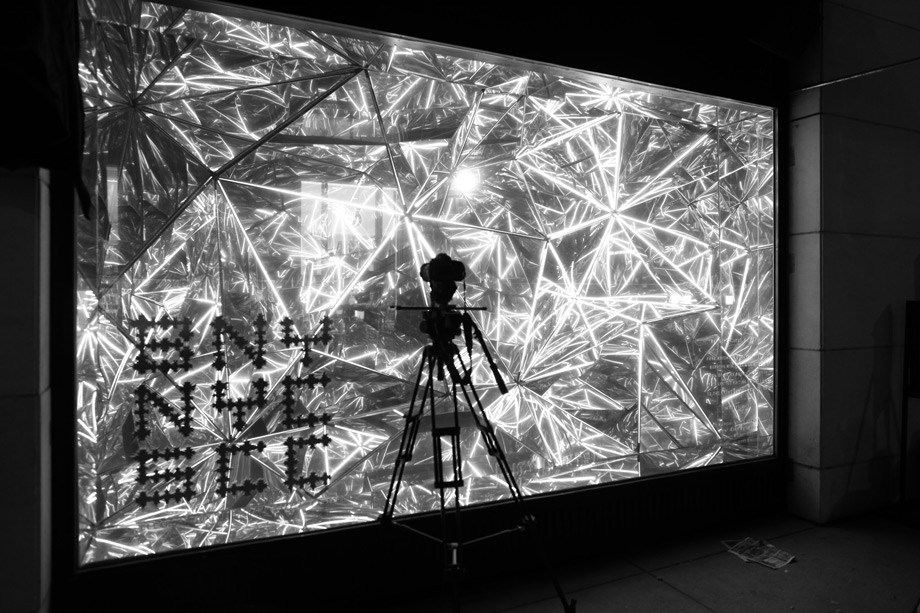 The making of "ATOMS"
in blog
posted

janvier 3, 2016
I'm lucky enough to work with art institutions and creative festivals, and it's very rare that I consider working with a "brand". But when Barneys NYC approached my gallery to offer me a "carte blanche" to create four installations for their flagship store in New York, I was intrigued. When they offered to share the creative direction with legendary Brooklyn born rapper JAY Z, I was in.
After a few conversations about the general aesthetics and directions, we decided to create three completely different pieces, combining large sculptures and light projections, articulated in 3 chapters for the windows on Madison Avenue: Floating city, Quartz and Atoms, while we created a large immersive projection for Jay Z's popup shop.
 Floating city and its shelter, Quartz and Jay Z's popup Shop.

Each of the installation is the representation of an imaginary world, at a different scale.
Atoms is an exploration of microscopic structures, where matter, particles and waves of light blend together to create the illusion of infinite perspectives.
To illustrate these ideas, I wanted to extend the (limited) space and deceive the viewer's senses, by simply using mirrors and lights.
To make this idea happen, I teamed up with my friend Boris Edelstein (the genius brain behind Modul8 and the mapping festival), who went on a mission to Shenzhen factories to get custom LEDs made especially for the project. He then developed his own software inspired by his madmapper framework, to map each LED to the sound signals of Thomas Vaquié's compositions.

TECHNICAL CHALLENGES
After working on the first sketches and 3d models, we shortly realized that the real challenge was to turn virtual into real.
Despite our experience in modeling and softwares, none of the usual tools would allow us to design a polygonal structure with perfect multiples of the exact lengths of the LED strips we wanted to use. After a few weeks of struggle, the solution came from creative coding with a great tool Kyle McDonald developed using openFrameworks, that allowed us to find optimized positions of the LEDs in space so all space between the polygons would be filled with light.
Barneys team provided a high level of expertise and built the tessellated structure with a combination of fiberglass and cement cast, wood and plaster supports, and Styrofoam slices, to provide a solid structure to assemble perfectly the light fixtures and mirrored perspex.
Watch a short video below, that shows a part of the making of the project.
A collaboration with Shawn "Jay Z" Carter, commissioned by Barneys New York
Art Director: Joanie Lemercier
Artist: Boris Edelstein
Sound designer: Thomas Vaquié
Designer: Melody Sirman
Producer: Juliette Bibasse
Client: Barneys New York