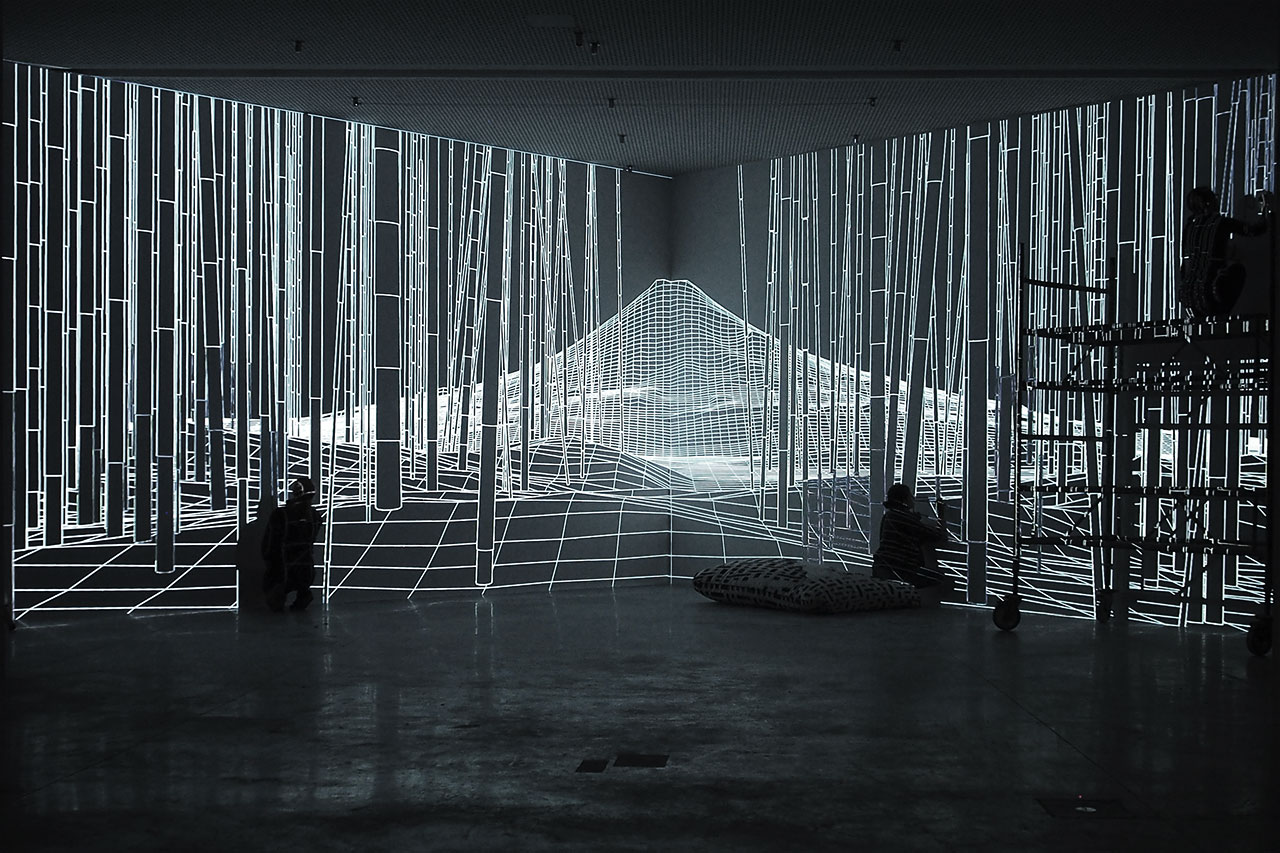 The making of Fuji
in blog
posted

août 15, 2015
I'm really happy to introduce a new audiovisual installation named FUJI (不死). The project was developed during an artist residency in Takamatsu, Japan, in the art island district. I was invited to present Eyjafjallajökull, a project inspired by Icelandic volcano's eruption in 2010, consisting of a large drawing animated through projections of light. But the proximity of mount Fuji urged me to develop a new piece.
ASCENSION
During my stay in Japan, I had a chance to actually get to the Fujiyama and climb it for a day. We couldn't get to the top this time, but during the ascension through the fog, the changing weather would let the summit appear for a few moments, making it seem unreachable and almost unreal. It felt like an intangible monument to the glory of nature. Photos by Juliette Bibasse.
Drawing:
I started sketching bamboo structures, to create a very vertical foreground, representing the haunted forest of Aokigahara that lies on the base of Fujiyama. The mountain itself seems to appears in a distance, and is drawn with horizontal lines only which meets the horizon behind the bamboo forest.
Story:
The light projected onto the drawing tends to recreate an abstracted version of the story of princess Kaguya. The Tale of the bamboo cutter is a 10th-century Japanese folktale, and the legend says that the name Fuji comes from the word Immortality / Fushi (不死), in the final chapter of the story. I wanted to avoid using figurative visuals, and I used light to evoke key moments of Kaguya Hime's life, using illumination and motion as symbolic elements, to turn characters and emotions into light. Below is an early version of the storyboard for the project.
Music
I discovered Paul Jebanasam's music back in Bristol in 2011, he released the recording of a live concert in a church on Subtext, the label of Emptyset. His compositions are made of layers of drones, grainy textures, chords and classical instruments, creating epic and heavily emotional sonic scapes. I found his music profoundly cinematic and it naturally brings me inspiration to create visual elements. I used a track of his first album Rites for Eyjafjallajökull, and we wanted to work together on this new project. We developed a structure to produce visual, music and sound effects for the 3 chapters of the story and exchanged sketches and ideas (music timeline below). I also developed audio reactive visuals, so the light sources would be driven by Pauls chords arrangements.
excerpt of Paul Jabanasam's first album, Rites.
CREDITS
Visuals by Joanie Lemercier, music by Paul Jebanasam, producer: Juliette Bibasse
You can find the full details of the project on this page: FUJI (不死)
I have to say I've also been unconsciously inspired by a project from Robert Hodgin, who released a beautiful piece on Fuji in 2010, while re watching it to write this post, I realized how much my work was influenced by Robert's aesthetics and the way he depicted the gigantic mountain.
FUJI (不死) is being shown in Seoul, South Korea, until the 17th of october, and will be at Nuit Blanche Kosice, Slovaquia on the 4th of october.